Xpediator (AIM: XPD), a leading provider of e-commerce and freight management services across the UK and Europe, is pleased to announce that Regional Express has signed a 10 year lease on attractive commercial terms for a new 19,289 sq. ft warehouse facility in Southampton, close to the port.
42A Oriana Way,
Nursling Industrial Estate
Southampton
Hampshire
SO16 0YU
Acquired by Xpediator in November 2017, Regional Express, is an international B2B freight forwarding and international courier company and an Amazon Global Selling Solution Provider. Since being acquired by the Xpediator Group, Regional Express has expanded significantly using the enhanced buying power and wider services of the Group to grow revenues.
In particular, Regional Express is developing its specialist ecommerce fulfilment services and the rationale for adding a further 19,289 sq. ft. of warehouse is to accommodate the evolving requirements of its current clients, whilst providing a facility to support the growth and acquisition of new ecommerce related business.
The new warehouse is in an excellent location for air, sea and road freight, as it is positioned less than 3 miles from the container port of Southampton, with quick links to both the M3 and M27 motorways.
The warehouse contains an office and private yard within the self-contained 1.15 acre site and also offers:
racking for pallet storage;
a mezzanine floor for fulfilment storage; and
a fully-implemented Access Delta warehouse systems, resulting in an automated and integrated storage and fulfilment service.
Regional Express operates across Europe, North America, South America, Africa, Asia and Australia and specialises in road, sea and air freight management and ecommerce fulfilment services for Amazon sellers and other e-tailers.
Managing Director of Regional Express, Neil Curran said:
"The new warehouse reflects the growth in the business as well as positioning us to be able to meet future demand. Speed and efficiency are key to our business and this new site will assist us in meeting these goals for both air and sea freight. The additional warehouse space also facilitates our strategic plans to further enhance our fulfilment services for current clients, whilst providing a platform to attract new clients within the ecommerce sector.
Xpediator, CEO of Xpediator, Stephen Blyth, commented:
"We're very pleased to see Regional Express build on their strong performance and look forward to offering all our clients more efficient freight forwarding solutions. Since integration within the Xpediator Group in November 2017, Regional Express has enhanced our ability to offer customers sea, air and road freight capabilities, and this new warehouse will be a further asset within the Group, one which may also prove additionally valuable should there be a hard Brexit."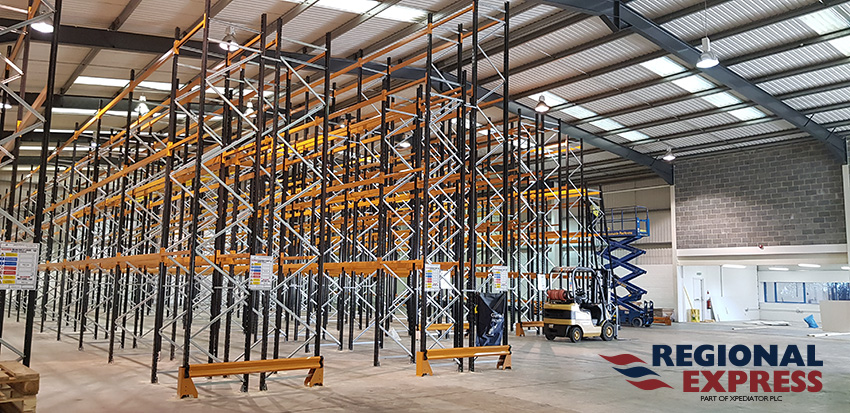 Enquiries
Regional Express (Neil Curran MD) Tel: +44 (0)1794 516515
Xpediator plc Tel: +44 (0)330 043 2395
Dave Gladen Email: info@xpediator.com
About Xpediator:
Xpediator is a well-established international provider of freight management services. Established in 1988 by CEO Stephen Blyth today the Group's International network of offices provides road, sea and air freight services, together with logistics and warehousing in the UK and Romania. The business offers integrated freight management within the supply chain logistics and fulfilment sector, through their three main areas: freight forwarding, logistics & warehousing and transport services. With headquarters in Braintree, Essex and country offices in nine CEE countries across 38 sites, the Group currently employs 938 people and was successfully listed on London's AIM market in August 2017.
For more information, please visit: www.xpediator.com.
Alternatively, do follow us on Twitter at @Xpediator or find us on LinkedIn at Xpediator Plc.